Medicaid Planning and Asset Protection for Baby Boomers and Their Parents

"I would definitely recommend this Law Firm if your in need of an attorney. All questions answered and very helpful great team!!!!! Much appreciated!"
Medicaid Planning and Asset Protection for Baby Boomers and Their Parents

"Paul helped me during the darkest time of my life. My husband was in a nursing home dying and I had to make decisions that I wasn't able to think clearly about. I lost my beloved husband, but I was able to make intelligent decisions thanks to Paul."
Medicaid Planning and Asset Protection for Baby Boomers and Their Parents

"Excellent resource for estate planning, asset protection, Medicaid planning and support for families and seniors as they are looking to provide guidance, love and care at the right level for a person needing long term care services and supports!"
Medicaid Planning and Asset Protection for Baby Boomers and Their Parents

"My 95 year old mother fell in November and suffered grave injuries.
She was put in a nursing home for rehab but it was evident that she would not be able to go back to live in her home. She did not have her assets in any form of trust. We needed someone to guide us through the Medicaid process and set up financially for her long term care.
Paul Stano and his team was the answer we were looking for!
They met with all 3 siblings and explained what they were doing step by step. They helped us sell her home and set up my mother financially.
Unfortunately my Mom passed away on January 31.
Paul and his team keep us informed as to the next steps in settling her estate. GREAT ELDER LAW FIRM!"
Medicaid Planning and Asset Protection for Baby Boomers and Their Parents

"My Mother was put into a nursing home last year. We had allot of questions and uncertainty on what we could and couldn't do. The law when it comes to medicate was so complicated, there was no way we could have done this without the Paul Stano firm. They made things so we could better understand the Laws. Special Thanks to Jan and Bridget who were awesome."
Medicaid Planning and Asset Protection for Baby Boomers and Their Parents

"I'm very satisfied with what Paul Stano and his staff at the Stano Law Firm did successfully getting Medicaid for my aunt. We had to place her in a local nursing home, and they recommended I go see Paul Stano. Everyone at Stano Law went out of their way to explain the process to me and made sure I understood everything.

Paul went well above and beyond for us. I couldn't ask for anything more! Paul and the staff were very kind and patient. This was my first time speaking with an Elderlaw attorney, and the experience couldn't have gone any better. I plan to go back to see Paul Stano regarding my uncle, and then for myself. Yes, their job is to provide these services, but it went much further than this. I felt like I was with family! I love to tell others to go see them at the Stano Law Firm. From where I live it was a little bit of a drive; however it was well worth it!"
Medicaid Planning and Asset Protection for Baby Boomers and Their Parents

"I knew it was time to get something done regarding Medicaid and nursing home care for my father. I was aware of several people who'd used the services of Paul Stano so I didn't hesitate to meet with him. He did a wonderful job for my dad!

Paul was an absolute professional in the way he went about things. You may have a tendency to stick your head in the sand and hope nothing happens in life, but it's not realistic. That's why I'm going to see Paul to get things in place for me. I would absolutely recommend his services, and have done so already many times."
Medicaid Planning and Asset Protection for Baby Boomers and Their Parents

"I'm very satisfied with the work Paul Stano did for my mother. He was able to successfully get Medicaid for her. He really did a wonderful job. We have a history with the Stano Law Firm, as several members of my wife's family have also utilized Paul's services as well over the years. There's no one better!

His staff is also great to work with. Everyone there is focused and does their very best to make sure you have a successful outcome. They are very helpful! Paul and his team are well worth recommending, and I'm pleased to do so."
"I am a Baby Boomer and my family has been a client of The Stano Law Firm for many years. Paul did some work on my father's Medicaid application and more recently I went back to him to create an irrevocable trust to protect my assets from a nursing home stay.

Paul does really good work, is very thorough, and has excellent attention to detail. I've been pleased to recommend his services in the past, and will continue to do so. If you're looking to protect your assets from the devastating costs of long term care, Paul Stano is the one!"
Friendly, Easy to work with and they know what they are doing!
"A great help when faced with health concerns for Parkinson's or other serious illnesses, dementia, and the need for nursing home care."
"I'm very satisfied with the work Paul Stano did for my mother. He was able to successfully get Medicaid for her. He really did a wonderful job. We have a history with the Stano Law Firm, as several members of my wife's family have also utilized Paul's services as well over the years. There's no one better!

His staff is also great to work with. Everyone there is focused and does their very best to make sure you have a successful outcome. They are very helpful! Paul and his team are well worth recommending, and I'm pleased to do so."
The Consumer's Guide to Probate in Ohio
Designed to Help You Navigate the Probate Process in Ohio
When you've lost a loved one, it can seem difficult and confusing to deal with all the legal paperwork. In this short guide, you'll get an insider's view of how probate works in Ohio.  This guide will give you peace of mind, and give you clarity and specific steps to take to simplify the probate process.
In this short and comprehensive guide you'll:
Get tips to avoid probate in Ohio and easy ways to protect your family's assets.
Discover the best strategies for estate planning if you're a high-net-worth individual.
Learn about the Probate Process, Executor Responsibilities, General Powers of an Attorney listed on the inventory.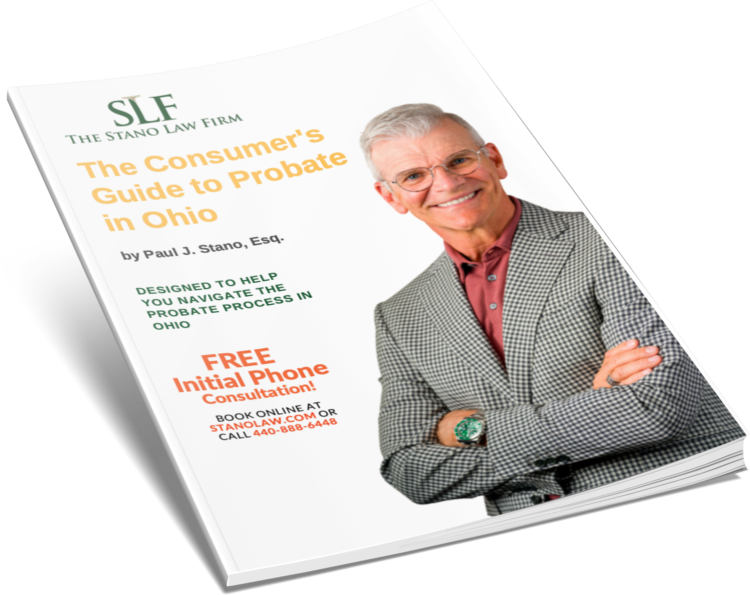 What People Are Saying
"Paul is a total professional who's provided a valuable service to our clients over the years, in areas such as pre-planning for a funeral where Medicaid issues come into play. End of life planning is never easy. It's a multi-tiered process where you need several qualified individuals involved to work with the family. I'm glad to be able to call on Paul for his valued contributions here. My clients have been very satisfied with the way he gets results for them."
"My father originally went to Paul Stano to have a will prepared. However after his health began to change, we needed to get things in place to help him enter assisted living and have these expenses paid for. Mr. Stano took care of everything for us, including getting him VA benefits. I would've had no idea how to go about doing this. He saved me so much aggravation and heartache. My father took care of me for many years growing up, and I wanted to make sure I took care of him when the time came. Mr. Stano helped me do this. I talk to others who think it's very simple to get VA benefits. But they have no idea how difficult this can be. I tell folks to let Paul Stano do it for them. He gets things done so smoothly."
An Attorney You Can Trust